Justhost is one of the most popular webhosting companies on the internet, with over 10 million domains hosted there.
Pros:
[list style="check"]
24/7 Phone Support (5-7 min wait time)
24/7 Live Chat (1-3 min wait time)
Very cheap shared hosting prices
cPanel
Anytime Money Back Guarantee
[/list]
Cons:
[list style="alert"]
No VPS or Dedicated Server plans
Renewal price is quite high (although this is true for most)
[/list]
[/twocol_one][twocol_one_last]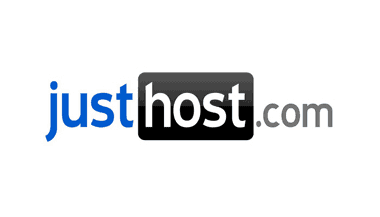 [button window="new" size="large" link="http://www.justhost.com/track/justhostcouponking"]Visit Just Host Now[/button]
[/twocol_one_last]
Features:
In comparison to the other major hosting companies (Hostgator, Bluehost, etc.), Justhost is right on track in terms of features. One thing to point out is that like Hostgator and Bluehost, Justhost uses cPanel, which is by far the best and easiest control panel to use. One reason this is good is because if you every wanted to switch hosting companies, the change between Justhost to Hostgator or Bluehost, and visa versa would be an extremely easy change, since they use the same control panel. We can contrast this to goDaddy, which uses their own control panel, making it more difficult when hosting switches need to be made (especially during renewal).
Uptime:
With 99% guaranteed uptime, Justhost matches an industry standard of great uptime. In the 3 years that I used Justhost, my websites showed little to no downtime. I only encountered one major issue, which caused my websites to be down for around 12 hours, due to an AT&T server outage. However, this problem was quickly resolved and I was contacted by email that this problem occurred, with a lengthy apology.
Support Experience:
Justhost was the very first hosting company I used, when I was first learning how to design websites, so of course, I was on the phone with them almost every day, sometimes hours at a time. One thing that I noticed was that all representatives were very eager to help me, and explained things extremely well for beginners to understand. They went well out of their way to help me set up various plugins, and even helped me when I wanted to switch some of my sites to their competitor's hosting. In terms of their customer support, JustHost is by far the best in this regard, especially for beginners.
Conclusion:
Overall, Justhost is our hosting company of choice, for beginners. For those that are just starting off, we strongly encourage to use JustHost, because of its price, reliability and most importantly patient customer support for beginners.

[button window="new" size="large" link="http://www.justhost.com/track/justhostcouponking"]Start Saving![/button]
All in all just host is a great hosting company and is one of the cheapest in the industry. However, the affordability of just host definitely does not detract from their quality and performance